Here is what a few of our happy customers had to say about us.
Please know that all of our testimonials come from real clients that we have actually worked with.
---
We recently concluded a multi-gate project with Mike Bless at our home in Newport Beach. Mike is a first class guy who does excellent work & who uses top materials on his jobs. He is very responsive whenever we had questions about the job. He has an extremely professional and respectful demeanor and is a pleasure to work with. My wife and I give Mike and his company our highest recommendation.


Gregory R. Vanni
www.thonbeck.com
---
Hi Mike,
It was so uncanny to get your email because I had been thinking about sending you a thank-you for the great job that you and Leo did at my house. As I told you earlier, you restored my faith in contractors and I especially appreciated your assistance in linking me with the rain-gutter and fence providers. I have been out of town until now and anytime you want a written or oral recommendation please do not hesitate to ask.

Thanks so much for improving our home,
Connie McBrien, Newport Beach, Ca.
---
One of the questions you ask yourself, "was it a good experience"? Absolutely!!! We will call Mike at Lido Gates for future help. We knew our custom gates would be a challenge as we needed Mahogany with an Asian theme. Mike was organized, assisted in the design with great skill, did what he said he would do, on time and without any issues. They look terrific."

Curt & Terry Balboa Island
---
Mike, I just wanted to say thank you again for all your help on the doors for LPA. I thought that after giving you the wrong measurements, that my life was over and there was no way we would be able to fix this in 24 hours…. the fact that your team worked all though the night to build two new doors to the correct size, new glass cut, and have them installed the next day, for the grand opening party was amazing, !!! Furthermore, to have them built that fast, and to the quality standards of lpainc.com was AMAZING!!!


Sheldon Hoggard
---
"I recently purchased a side gate for my home from Mike Bless at Lido Gates. I had contacted several gate companies by email and Lido was by far the most responsive, with Mike answering my initial inquiry within a few hours (on the weekend no less) and maintaining the same level of responsiveness and customer service throughout the process. He helped me every step of the way – selecting the gate, finish, hardware, etc. I was most impressed by Mike's commitment to quality – one can see this commitment from the Lido Gates website, and it's even more obvious dealing with Mike directly. He is passionate about his work and pays great attention to every detail. I am a picky customer and wanted the installation to be perfect, and Mike made sure that it was, down to, for example, achieving perfect matching of the filler putty to the wood. And he insisted that I be completely satisfied before even allowing me to pay the balance of the purchase price. I can't recommend Lido Gates highly enough, and I only wish that every business that I hired to do work on my home had the same standard of quality and customer service."


Paul Voois Ladera Ranch
---
"We recently remodeled our home of twenty-five years on Lido Isle and chose Mike to build four gates for our garden. To say he was terrific is an understatement. During construction and afterwards his customer service was exemplary and the quality of his product fantastic. My husband is a boat designer and very choosy about the materials used in our tough environment so he was very impressed with Mike's use of Philippine Mahogany. We have never dealt with a more conscientious contractor and highly recommend his company."


Nancy Halvorsen Newport Beach
---
I had the opportunity to work with Mike Bless and have seldom come across someone so thorough, responsive and detailed. It was a pleasure doing business with Mike.


Navin Diddi 714-829-0747
---
"I have just completed a major home remodel, inside and out, including landscaping. The foreboding adage that 'it takes much longer and costs a lot more' was so true! One outstanding exception was working with Mike Bless and the wonderful staff of Lido Gates. Mike was extremely professional, and always punctual for onsite meetings, returning phone calls and product completion/delivery. His crew installed the gate perfectly and were very tidy. They even put stained glass panels into the gate that I provided, giving it a personal touch that goes great with the new house. The overall quality and custom craftsmanship are outstanding, and it shows. The first comment I get about the remodel is "that gate is so beautiful!"


Candice Newport Heights, Newport Beach, CA
---
I can't say enough about about how pleased my wife and I were with our experience with working with Mike Bless and his people of Bless Construction INC during the remodel of our home in Newport Beach. Every thing was was done in a most professional manner and given great personal consideration in regards to our time and our living conditions during the remodel. We had all of our cedar shingle siding removed from our building after 40 years, which was a dirty job. At the end of each day, without the scafflolding still present, one would never know that work had been going on all day it was so clean. Mike kept us appraised each afternoon on what we could expect completed the next day and how many people would be working that day. There were no surprises, everything was covered before any action was taken. Bless Construction was more than deserving of the 5 stars that I have given them.


Charlie Clark Balboa Peninsula Newport Beach, Ca
---
A few years ago, we purchased an older home built in the 1960s that needed renovation. To add to the curb appeal, we wanted a good-quality and attractive front gate. We visited the Lido Gates warehouse to select the wood, metal accents and hardware. The gate was delivered and installed as promised in 2008. I chose to stain and seal the gate myself. After the heavy rains during the winter of 2010, either our wood gate slightly expanded or the brick wall supporting the gate had shifted such that the door was not closing properly. I called Mike and he came to inspect the gate the same afternoon. Within 24 hours, he and his crew removed, readjusted and remounted the gate such that it worked flawlessly again. I was so impressed with the work that I had him readjust an additional three gates and two doors on our property. More recently, I had him install an electronic keypad lock on our side gate. I highly recommend Mike and Lido Gates for not only fabrication of high-quality wood gates but also adjustment of any door or gate that isn't closing properly.


Anil, Corona del Mar, CA
---
"When you are looking for High Quality Mahogany Gates you need look no farther than Lido Gates. My wife and I were looking for a high quality door for our new home in La Quinta, CA. We feel very fortunate that Lido Gates was our first source for our door. We live in a harsh environment and wanted only first quality input material and top quality craftsmanship. We found both with Lido Gates. Our door is #29 on the website. Sitting down and designing our custom door with Mike Bless was a very interesting and fun process. We quickly realized that Mike had vast experience and made some excellent recommendations for construction and design of our door. We incorporated a custom half-round of steel scroll that exactly matched our decorative design over all of our exterior windows. We really like the heavy feel of the Philippine Mahogany when the door closes. We've received numerous compliments on the style, design and quality construction of the door we chose. We know that we have a door that will weather and age beautifully for many, many years. It was a pleasure to do business with Lido Gates."


Len Wahlert Retired 3M Executive La Quinta, California
---
"Recently I was in the market for a very special gate for our Spanish Revial home. We wanted our gate to be classic, unique, and have the appeal that indicated it was made by a genuine craftsman. I also wanted our gate to not only fit our 1926 décor by having some old world flavor, but the gate we wanted had to be durable to a variety of weather conditions, sturdy, safe for children, and charming at the same time. After many estimates, attempted estimates (no shows), and on-line searching, I found Lido Gates and am so very glad that I did. I thought that it would be a challenge to order a gate without someone actually coming to my home to provide an in-person estimate, however Mike made this process effortless. I was able to obtain the dimensions and e-mail some photos of the desired location, and he worked his magic to create the most beautiful Philippine Mahogany gate. Mike not only assisted with the details of the gate, but also assisted in providing details and information that was helpful in selecting the right hardware and he provided smart suggestions and ideas that added special touches for a quality look and installation. Mike is professional, responsive, a pleasure to work with. He knows and understands the details that promote a smooth transaction. With his attention to detail it is evident that he takes pride in his work and strives for his customers to be satisfied with their product. We are very pleased with our product and so very glad that we chose the right craftsman for the right job as our end product far exceeded our expectations."


Ingrid Rushing,  Studio City, CA
---
Thank you Mike and crew, we love our new custom door! Working with Lido Gates was such a pleasure. They were very professional; I received the estimate promptly, our project was started right away and it was finished in record time! I will recommend your custom door/gate building service to anyone who asks, thank you again for providing such nice quality work.


Danielle Slutzky
---
I most highly recommend Mike Bless with Lido Gates for your gate fabrication and installation. I have a soft contemporary home with clean lines and the marriage of the gates with the doors was critical. Mike performed beautifully. The gates are a piece of art and I could not be more impressed. Mike was timely, responsive and the job was clean and well done. I would refer Mike to any of my closest friends. Thank you Mike for a job very well done.


Michael Murry Newport Beach, CA
---
I want to thank you Mike for the gorgeous gate you and your craftsmen built for me. It was a challenging project as It was not a standard size and I was designing it myself. You were very patient and helpful throughout the entire process, guiding me and providing useful information to complete the design. As you can see from the photos, it looks fabulous. Friends and neighbors have expressed many compliments. I couldn't be happier and look forward to working with you on some future projects, and I have already recommended you to others! Thanks again for a great job. Deborah.


Deborah Toms Set Decoration Buyer "happy endings" 310-721-1819
---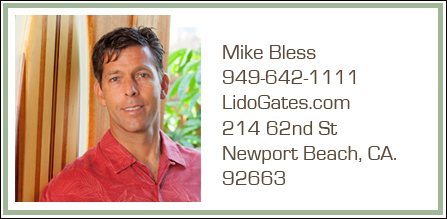 Thank you for reading!